"We are five castes, one people. We stand united, dedicated wholly to the Greater Good. As we progress, we will encounter further barriers. We will overcome them. Our future is now, believe in our destiny."
~Ethereal Supreme Aun'Va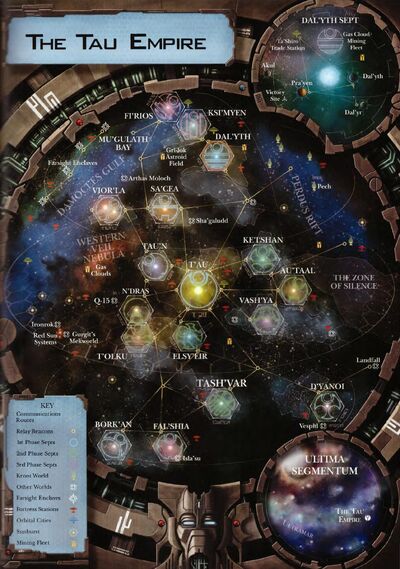 Summary
he T'au Empire, also spelled Tau Empire, is a rapidly expanding alien stellar empire situated within the Imperium of Man's Ultima Segmentum, near the Eastern Fringes of the Milky Way Galaxy. The Tau Empire was founded by the Tau caste called the Ethereals, who lead the Tau Empire in the name of the philosophy they have named the Greater Good.
Statistics
K-Tier: 5-B
C-Tier:
Name: T'au, Tau Empire
Origin:Warhammer 40k
Attack Potency:
Type of Faction: Socialist Empire with a Caste System
Era: Warhammer 40k Era
Times of Stability:
Times of Turmoil:
Date of Creation: Unknown
Date of Dissolution: N/A
Population: Hundreds of billions
Holdings: Over a hundred planets
Weaknesses: Inferior FTL to The Imperium of Man, Infantry are horrible in close combat
Technologies
Weapons
Pulse Rifles
Pulse Blaster
Ion Rifle
Vehicles
Devilfish
Drone Harbringer
Hammerhead Gunship
Sky Ray Gunship
Swordfish
Piranha Skimmer
Tetra
Remora Drone Stealth Fighter
Ships
Gal'leath ClassBattleship
Or'es El'leath Class Battleship
Others
Notable Victories:
Notable Losses:
Inconclusive Matches: