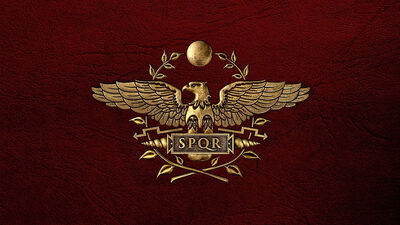 Summary
was the era of ancient Roman civilization beginning with the overthrow of the Roman Kingdom, traditionally dated to 509 BC, and ending in 27 BC with the establishment of the Roman Empire. It was during this period that Rome's control expanded from the city's immediate surroundings to hegemony over the entire Mediterranean world.
-Wikipedia
Statistics
Tier: 7-B
Name: Ancient Rome, The Roman Republic, Res Publica, SPQR, Senatus Populusque Romanus, 𐌓𐌏𐌌𐌀
Origin: Real Life
Era: Ancient Times
Times of Stability 201 to 90 BCE |
Date of Creation: 509 BCE
Date of Dissolution: January 16, 27 BCE
Population:
Holdings: 10,000 square km (326 BCE) | 360,000 square km (200 BCE) | 1.95 Million square km (50 BCE)
Weakness: Political instability near the end.
Technologies
Weapons
Vehicles
Community content is available under
CC-BY-SA
unless otherwise noted.